Adult Play School
Give your dog the gift of being cared for (climate controlled housing, potty sessions and snack/water included), off leash play times with dog friends, all while reinforcing good manners in our Doggie Play School program.
Play School is designed for dogs who enjoy socializing and interacting with other dogs in our off leash environment. Play School provides the dogs physical and mental stimulation in a safe indoor/outdoor environment where your beloved dog can have fun and enjoy play time with other dogs, have manners reinforced through our obedience exercises, and have staff support each dog through your dog's social development. Proper & safe play development, as well as manners is our main focus of our trained Technicians. Off leash play times take place in our large artificial turf yards with wading pools and play equipment 1 hour in the morning and 1 hour in the afternoon. In addition we have just added a large fenced in grass field for the pack to go exploring! During nap time or not in play, your dog will be safely housed in a comfortable extra large size crate until you are able to come and pick up your furry friend.
Your dog can enjoy Doggie Play School with us 1 – 3 days a week Monday through Friday. To get your dog started with our Doggie Play School program, check out our policies and enrollment details below.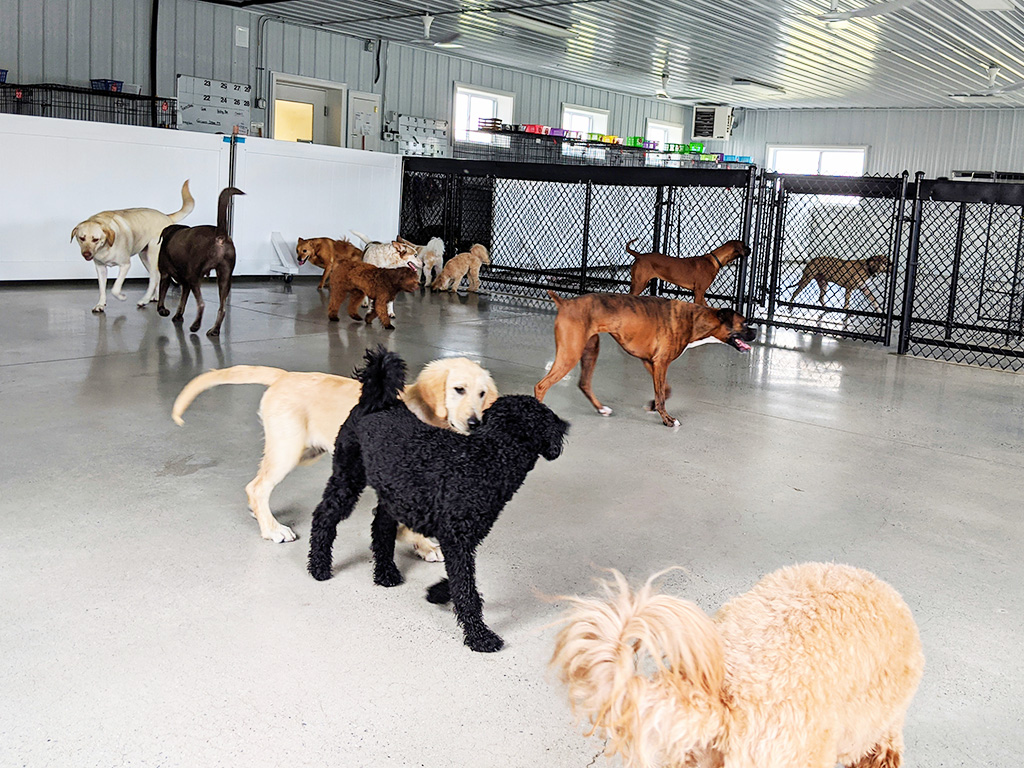 Indoor Play Areas
Our indoor play areas are designed to allow multiple play groups supervised by our Certified Pet Care Technicians and provide the ability to move to outdoors easily and as needed.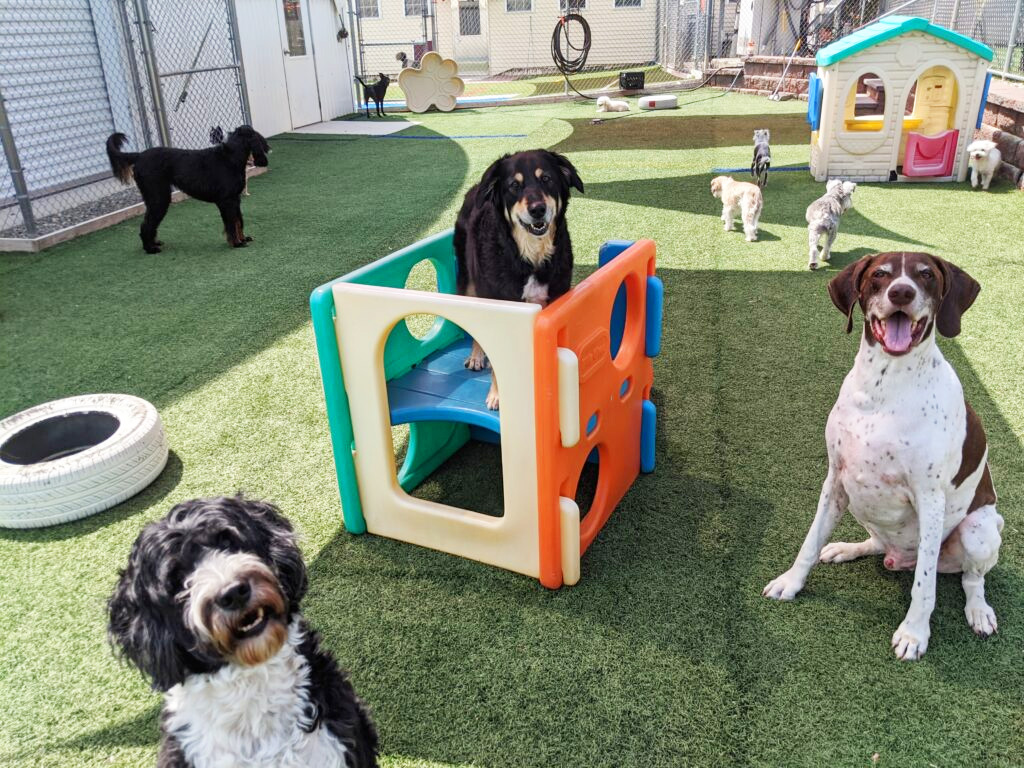 Outdoor Play Yards
Our outdoor play yards are enclosed with 6′ fencing and allow for dogs to exercise and play with direct supervision from our Pet Technicians. These areas have playground equipment to entertain your canine, as well as cool wading pools and shade on hot days.
Pricing:
1st Dog:
$35.00/Full Day $17.50/Half Day (AM or PM)(no multiple dog discount for Half Day) Cash price
2nd Dog same day: (25% off) $26.25 cash price
3rd Dog same day: (50% off) $17.50 cash price
5 Day Daycare Package:
$175.00 (cash price)
Your choice with 5 day package:
5% off 1 night of boarding or
5% off grooming visit
10 Day Daycare Package:
$350.00 (cash price)
Your choice with 10 day package:
10% off 1 night of boarding or
10% off grooming visit
Requirements
Students in the Play School program need to:
Be spayed/neutered if over 6 months of age.
Show no aggression. Parents are required to notify the Resort if their dog has ever bitten a human or another pet OR if their dog has ever been bitten.
Play well and appropriately and exhibit good control of their emotions.
Display the ability to take dog corrections and/or give appropriate corrections to other dogs.
Not be an excessive barker.
Listen and know basic obedience skills (Recall to name, Sit, Off, Leave it) to allow our staff to Lifeguard each dog.
Have had off leash exposure to a group of dogs (minimum of 2 or more) and enjoy socializing with other dogs in a off leash group environment.
Attend Play School on a designated day(s) on a weekly basis (we schedule each student every 6 months).
Vaccines – Rabies, DHPP, and Bordetella
Enrollment Process
Complete and turn in the Enrollment form
Enrollment Process: Speak directly with a Supervisor who will go over all the requirements of the program, provide a tour, and answer any questions you may have.
Social Assessment: We will schedule an evaluation day ($50 for the day) to evaluate your dog's response to our environment, staff, and other dogs and assess what is the best program for your dog. We will provide you verbal and written feedback over the next 4 weeks to determine what are the best play activities for your dog, as well as inform you of how your dog is adjusting to our environment.
Rates:
Adult Dog Daily Rate: $35/day (cash price
Puppy Rate: see Puppy program for puppies under 18 months of age
Enrollment Interview and Tour: FREE
Social Assessment: $50 (cash price)
Post-Assessment Meeting: FREE
Report Card: FREE (provided yearly)
All rates and policies are subject to change without notice
Hours
Drop off and pick up for Full Day:
We encourage drop off between 6:30 – 8:30 AM and pick up between 4 – 6 PM.
Drop off and pick up for a Half Day AM:
We encourage drop off between 6:30 – 8:30 AM and pick up by 12 noon.
Drop off and pick up for a Half Day PM:
We encourage drop off between 12 – 12: 30 PM and pick up between 4 – 6 PM.