Meet Our Trainers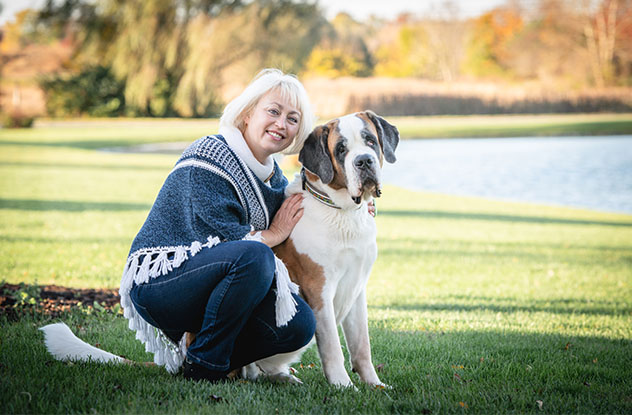 Kristina Ackerman
My name is Kristina Ackerman. I have always been involved with animals, my family shares our home with our pets— 'Tank", a Labrador Retriever, "Simba", our Persian cat and our boy, "Dozer", a St. Bernard, who recently passed away and who was my great teacher in work with reactive dogs.
I'm a Usui Reiki III Degree Master/Teacher level Natural energy healing practitioner and deeply enjoy connecting with nature and animals and offering Reiki energy healings when its needed.
I have been working with Oscar's Pet Resort since 2007. Along with offering Private, Daycare and Boarding training, I hold a special place in my heart for puppies. In 2011, I initiated my Puppy Program that centers on early socialization and training, both of which impact a dog's confidence and manners at a very critical developmental life stage. I also enjoy offering Agility for Fun, group and private sessions to provide mental and physical stimulation, as well as further deepening the bond between dog and owner.
I use Behavior Modification with shy, fearful, anxious dogs, and dogs with some reactivity issues. It's so rewarding to see how they gain confidence and the impact it has on the dog-human life. My goal is to help my human customers to better communicate and understand their Best Friend.
I earned my Pet Dog Trainer Certification through the Animal Behavior College in 2009. I earned my Pet Care Technician Certification through the Pet Care Service Association in 2008. I earned a degree in Business Administration from Mainor Business College in Estonia and an Associate Degree in Economic Law from Polytechnic Institute in Estonia. I am a professional member of the Association of Pet Dog Trainer and AKC CGC and AKC S.T.A.R Puppy Evaluator.
Dog training, like any other field, is constantly changing. To provide the best service, I am dedicated to learning, reading, and attending seminars and workshops on a regular basis to keep up-to-date on new methods and ideas in Science-Based Positive Reinforcement Dog Training. I regularly attend seminars and conferences for Pet Dog Trainers, like Fearful Dog seminar by Nicole Wilde; Science-Based Dog Training seminar by Dr. Ian Dunbar; Best Friends Forever conference by Pia Silvani, Bullies and Canine Adolescence by Trish King etc. I have learned through many webinars through the Behavioral Educational Network by Animal Behaviorist Dr. Susan Hetts, as well as through the Association of Pet Dog Trainers.
To work with reactive, fearful and anxious dogs, I use the Behavior Adjustment Training (BAT) method by Grisha Stewart. BAT uses desensitization together with a functional reward for calm behavior and is a great way to help your dog to be more comfortable with what she/he is fearful or upset about. My training methodology is simple… I use force-free training, otherwise known as Positive Reinforcement Training Method. This type of training uses positive methods to develop partnership through cooperation and trust.
Michelle Carroll
My Training Philosphy:
Embracing dog owners along with their challenges.
Educating them about life from a dog's perspective.
Helping them build a bond based on understanding, enjoyment, compassion & friendship.
Sharing with them force-free and reward based solutions to create harmony.
My Goals:
To take a negative and turn it into a positive.
To educate dog owners how to be AMAZING in their dog's eyes.
To rejoice & cry while overcoming challenges.
To save dogs and make their life happier.
Ever since I was 5 years old I always felt a special connection with dogs. Now, I know why. It was a God given desire to save as many dog lives as I can. Whether that meant rescuing them and finding them a home or helping them live harmoniously with their family.
In 1990, I set out on a life long journey to be a Canine Advocate. Immersing myself in canine behavior and training. Studying via books, seminars, mentor programs, webinars and clinics produced by some of the best canine specialists in our country. Some of my favorites include: Ian Dunbar, Karen Overall, Karen Pryor, Dr. Sophia Yin, Patricia McConnell, Jean Donaldson, Jolanta Benal, Brenda Aloff, Pat Miller & Dr. James Dobson. All of which believe in the science of learning by positive motivators.
Michelle started her career in 1991 when dog training was done using force, coercion and intimidation. It was not until 2010 that she became a "cross over" trainer. Ending the "old way" of training and embracing the "new way" by implementing science based, positive training. She has attended many seminars, clinics, workshops and studied the works of elite, science based, positive trainers such as Karen Pryor, Dr. Karen Overall, Dr. Patricia McConnell, Dr, Suzanne Hetts, Pat Miller, Jean Donaldson, Nicole Wilde, Dr. Sophia Yin and Grisha Stewart.
My journey has led me through many hills and valleys but none are greater than the journey with my current dog, Tayvin. Tayvin, is a male American Pit Bull Terrier, currently 7 years old and is a "Reactive Dog". He has taught me the value of truly understanding a dog and what makes them happy, sad, scared, excited, nervous and overjoyed. I thank God for him every day. This journey has led me to dig deep in understanding what dogs are saying and how to help others with "Reactive Dogs".
Staying current on dog training trends that reflect my training philosophy gives me much joy. And I'm forever grateful for all the referrals from local rescues & veterinarians who continue to support happy & healthy dogs. I often defer to and appreciate the support of Animal Behaviorist, Ilana Reisner in PA.
In 2008, Michelle joined the training staff of Oscar's Pet Resort. She has a strong devotion to educating dog owners about their canine companions. Her philosophy is based on COOPERATIVE PARTNERSHIP. Utilizing tools and techniques that encourage the dog to happily participate in the tasks asked by their owners.
Some of my accomplishments include:
Reactive Dog Work (2011) – Mentor Program with Ann Withun – ACDBC, CPDT-KA
Certified Canine Behavior & Training (2017) – Pat Miller of Peaceable Paws – Level 2 Graduate
Group Class Trainer Certification (2001) – Animal Behavior Training Associations – A.B.T.A. – Petco
A.B.T.A. Instructor (2002) – Petco Trainer Program
Canine Good Citizenship Evaluator (2001) – American Kennel Club
Oscar's Pet Resort – Trainer (2008) – Group Classes – Puppy, Basics, Advanced, Carting, Tricks, Reactive Dog, Rocket Recall, Body Handling
Furry Friends Network (2000) – Volunteer/Foster – fostered over 20 pit bulls and adopted them into loving homes
Keystone Pets Enhanced Therapy Services (2010) – Evaluator/Trainer/Member
Train A Dog, Save A Warrior (2014) – Service Dog Trainer
Certified Professional Dog Trainer – CCPDT-KA (2020)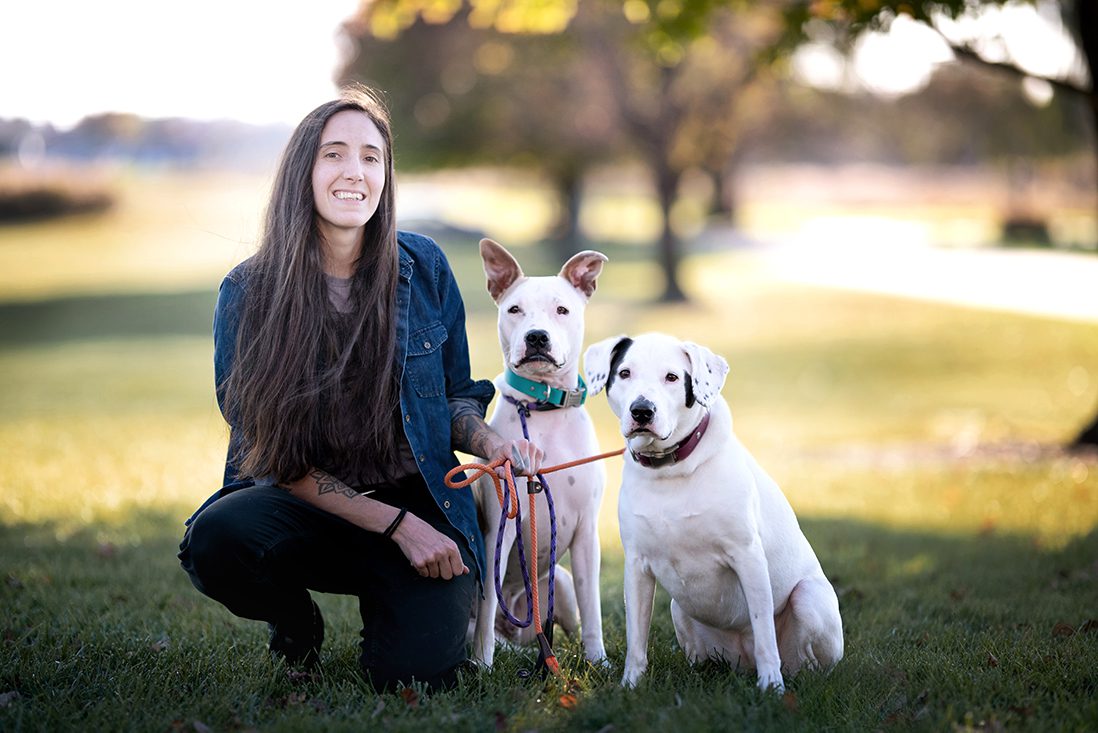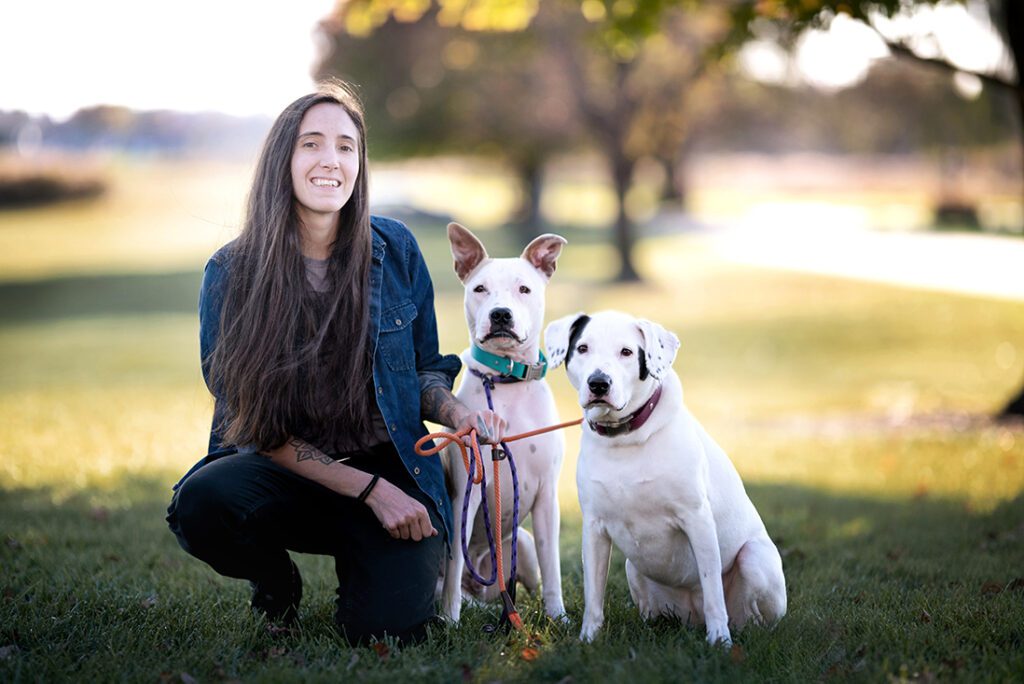 April Hartman
My name is April Hartman and I share my heart with two rescue pitbull mixes: Pebbles and Banjo. After adopting Banjo out of a neglectful situation in August 2020 I was inspired to dive into the world of positive reinforcement based dog training to help him overcome any challenges he would face. I worked with Michelle Carroll who introduced me to the teachings of Pat Miller, Patricia McConnel, and Dr. Sophia Yin, and Jean Donaldson. Taking note of my strong desire to continue learning, Michelle Carroll formally took me under her wing and began mentoring me in December 2020. My motivation for training comes from a desire to enrich the lives of dogs and strengthen the bonds between them and their owners – while having a ton of fun along the way!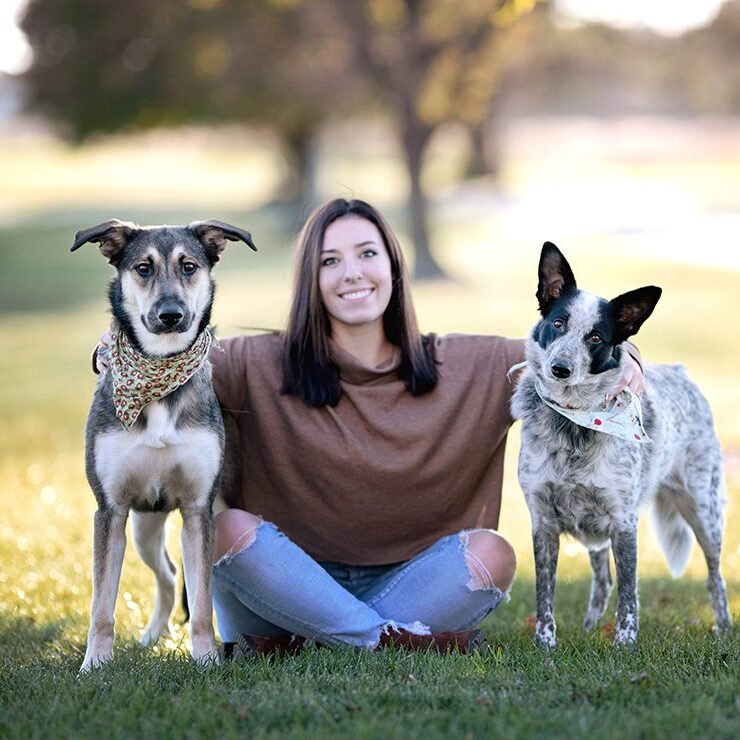 Hi I'm Kara! I've been working at Oscars Pet Resort as a Pet Care Technician for 3 years. Before I started working here I went to CTC to be certified as a Veterinary Assistant. I recently have become a certified Dog Trainer at OPR and work extensively in our Puppy Playschool Program. I graduated from Victoria Stilwell Academy in 2020 and continue to work on expanding my knowledge on Dog Behavior through mentorship and ongoing education. A few fun facts about me: I love to dance, I've danced ever since I was four years old. I starting coaching my senior year and have been a Competition coach for four years as well! I have 2 amazing dogs: Willow, who is a Texas Heeler and Gemora, who is a Shepherd mix. I love my OPR family and I always enjoy meeting new people and our long term clients! I look forward to bringing some dance to our Dog Training program :).